"But I already had that extra Kitchen upstairs. I never have rented it out as an apartment — just use it for my kids' craft room."
The Plan Review Intake Official at the City would not allow the set of drawings to be submitted for permitting until the so-called "illegal second kitchen" was either approved by the Zoning Department or else shown as being demolished.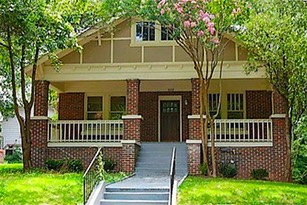 The owner reluctantly agreed that it was quicker to show the extra "kitchen" to be removed, so that she could get her house repaired and move back in. Read on to find out what we did.
Many repeat clients trust us to deliver on renovations and repair projects. Our firm provides architecture and related services for many new commercial buildings and custom residences, as well.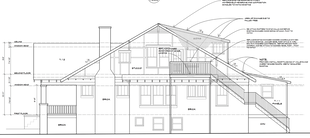 We understand the nitty-gritty of construction and aren't afraid to be immersed in a scene to document existing conditions. We're familiar with permitting in areas we serve. We assist, first, with compliant documents, plus offer submittal services and address comments and questions from local plan reviewers.
The anecdote at the beginning of this post is an example from one of our past projects. Here are some further details about that project.
Awhile back, Southeast Studios designed, documented, and permitted renovations to a damaged property in the City of Atlanta neighborhood of Westview, a beautiful, older section, now seeing renovation. The rear quarter of a 1930s bungalow had been crushed by a falling tree during an intense storm.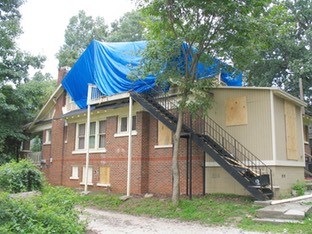 We met a construction superintendent on-site on August 5 of that year, performed field observations & related services, then produced documentation in CAD that included required demolition, framing and construction docs. This took about 3 weeks, after which we submitted to the city for permitting, processing them through the reviews on behalf of the insurer's GC.
We responded to delays by zoning and site development reviewers because:
no survey had been done by the owner or GC, as required by the City;
the project was within Atlanta's Beltline Overlay District, a complex zoning condition recently imposed on top of existing zoning requirements — all of which were met, but which needed verification;
the house (built in the 1930s or earlier) intruded into its right side yard by 2″ (yes, two inches) — side yard setbacks weren't imposed here until the 1960s, but this required documentation on a survey.
So, of course, everything ground to a halt until we resolved these issues. We procured a survey, pronto, submitted it to the authorities having jurisdiction, and it was reviewed.
At the plan reviewer's request, we submitted further documentation that no changes were being made by the supposed "intrusion" into the side yard of the existing building being repaired.
And what about that "second kitchen"? It was one of a couple of un-permitted remodelings made in the past by a prior owner. Unfortunately, authorities required us to call for their removal in our drawings, which we did in short order, in the demolition plan.
Once issues were addressed, the permit application was approved, fees were paid, and construction commenced.
The permit was issued by September 18 — just over a month-and-a-half from our start, which was reasonably good for the City of Atlanta at that time, especially considering delays to obtain a survey. We perceive that they are working diligently to improve upon this.
Would you like to have a copy of our infographic, "Building Permit Process Guide"? There is no charge for this, just CLICK HERE to download your copy of this handy reference!