During our Principal Architects' combined 7 decades in this field, we've run across firms that can provide services & products to our clients. Feel free to make use of this list, and return to it again, as we update it periodically. You will naturally make your own independent evaluation as to your fit with any provider shown, but we've enjoyed excellent relationships with each.
Free Step-by-Step Building & Permit Chart!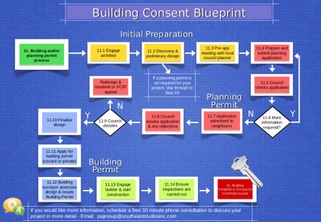 We prepared this chart after seeing so many people struggle to understand steps needed to design, permit and get your project built. This is a simplified road-map to your goal of a successful project. Click Here to claim your free copy!
Free Guide!
We prepared this guide after seeing so many people struggle with understanding the design and construction process. This process can seem like a complex and frightening roadblock for those who haven't been through it before. The first & most important step is choosing an architect. Click Here to claim your free copy!
Based in Birmingham, Alabama, and with offices in Georgia and Florida, specializes in damage repair and in the repositioning of existing multifamily communities within the changing marketplace. Their website shows only a portion of the work they have performed in upgrading properties in the region and the extent of services they perform. http://www.4rci.com/
Folks don't always realize this, but you do, indeed, need a survey of your property. Our state formerly required a survey by a Registered Land Surveyor for the sale of any property.
Recently, this was rescinded at the behest of lobbyists, so now, many owners don't know exactly what they do own & control. Moreover, you may not be aware of Building Setback Lines, easements, encroachments, waterways, tree preservation ordinances, floor area ratios, limits on impervious cover, or other planning & zoning restrictions on what you can do on your land.
Call us for assistance with getting a survey. We'll be glad to help.