Recently, I addressed a question from a consumer on a forum about altering his home and adding a very small addition. Paraphrasing for brevity, he asked,
"I don't know why this is so difficult. I had three quotes for upgrading from a half bath to a full bath, but then the builders quit responding when it came time to start the job! Thankfully, I'm smart enough not to have given them any money up front. Please help with suggestions on a reputable contractor or handyman. I have a half-bath. I need to demolish a wall to make it three feet bigger, then add a tiled shower, enclosed with glass, etc."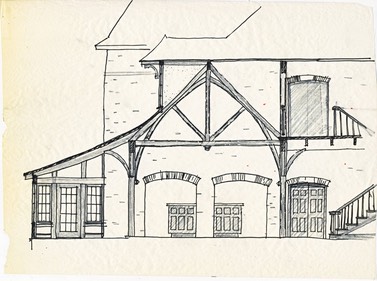 While I don't know the exact reasons why this person's contractors all disappeared, I had a few thoughts related to this.
A lot of contractors are busy right now, as are many architects. This may slow in the Fall and Winter, if you're able to adjust your timeline. A wee bit of scheduling flexibility could put you in a better position.
I have a question. Did you sign a written contract with any of these "contractors"?
As for money, once one of them starts work, you'll have more leverage over a licensed contractor who gets paid but walks away than over a non-licensed one doing the same. This is because taking money for a construction project without performing the work jeopardizes a legitimate license and may rise to the level of a crime that could end a career and even result in jail time.
Contractors who bother to obtain a license are careful to maintain it in good standing, as it's hard to get and more difficult to get reinstated after a sanction.
Those who act as fake "general contractors" without a license are already in serious violation of the law if licensing is required in their jurisdiction in order to build. Some of these don't care about adherence to basic, sound building principles, either — they want only to get in, get paid, and "get away with it". If they don't escape, they face big fines and jail time, indeed!
Your project could require a licensed residential contractor and a building permit in your jurisdiction. (Everyone should check their own!) As a precaution, ask your home insurer ahead of time if it covers work done by non-licensed firms, or work performed without a permit, where required by local ordinance or code.
For example, if a non-qualified person wires a new switch and ceiling light in your addition, what happens if that faulty wiring sets off a fire that burns down your entire home? What if a legally added part damages a non-permitted portion of your home? Would your insurance still cover you?
If your friendly insurance agent isn't so friendly about these situations, you'd better be careful!
So what, if your insurance doesn't cover some loss to your property? Ask your mortgage holder if there may be potential foreclosure ramifications if your property's value happens to be reduced, for any cause at all, related to those mentioned here. Why take such a risk?
Be sure to obtain services from licensed, insured, and qualified providers, who meet local codes for all alterations and additions to your home.
To learn more about the building process, sign up by clicking here and we'll update you occasionally with new information.
Sketch credit: Section Sketch of an Addition to a Medieval French Country Manor by Greg Mix. Copyright © 2016 All Rights Reserved.